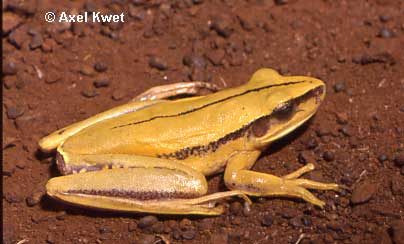 Merkmale
Kopf-Rumpflänge 40-70 mm.
Verbreitung
Süd- und Südostbrasilien, Teile Argentiniens, Paraguays, Boliviens und Uruguays. In RS zerstreut im Nordwesten.
Lebensraum
Offene Habitate
Biologie
Wenig bekannt.
Literatur
Achaval, F. & A. Olmos (2003): Anfibios y reptiles del Uruguay. 2. edition. - Montevideo, Uruguay (Graphis Impresora), 136 pp.
Bastos, R. P., M. A. F. Bueno, et al. (2003). Padrões de vocalização em cinco espÉcies de Hylidae (Amphibia: Anura) do Brasil Central. Comun. Mus. Ciênc. Tecnol. PUCRS, SÉr. Zool., Porto Alegre 16(1): 39-51.
Cei, J.M. (1980): Amphibians of Argentina.- Monitore zool. ital. (N.S.), Monogr. 2: 1-609.
Garcia, P. C. A. and G. Vinciprova (1998). Range extensions of some anuran species for Santa Catarina and Rio Grande do Sul states, Brazil. Herpetol. Rev. 29(2): 117-118.
Kwet, A., SolÉ, M., Miranda, T., Melchiors, J., Naya, D.E. & R. Maneyro (2002): First record of Hyla albopunctata Spix, 1824 (Anura: Hylidae) in Uruguay with comments on the advertisement call. - Bol. Asoc. Herpetol. Esp. 13(1-2): 15-19.
Sá, R. O. (1995). Hyla albopunctata Spix, 1824. Cat. Amer. Amphib. Rept. 602: 1-5.
Spix, J. B. (1824). Animalia nova sive species novae Testudineum et Ranarum, quas in itinere annis 1817-1820 per Brasiliam jussu et auspisiis Maximiliani Josephi I Bavariae Regis augustissimi suscepto collegit et descripsit. Monachi.